barValid tutorial: Send barcode to PC
Preface
barValid transforms your smartphone into a powerful barcode to pc scanner! Send your barcode over internet from all over the world to your PC. You can write the barcode to a CSV file, you can forward a barcode to Excel, send the barcode to Word or any other application.
No need to set up WiFi environments or configure firewall rules.
✓

Send barcodes from your smartphone over barValid cloud network to your PC

✓

Write any scanned barcode into a CSV file on your PC

✓

Automatically copy the barcode to your PC's clipboard

✓

Scan barcode to Excel

✓

Scan barcode to Word

✓

Scan the barcode to any other application over the barcoder to virtual keyboard feature
HowTo
Follow these simple steps to enable the scan to PC function
Install barValid - GS1 Barcode Checker & verifier on your smartphone

ⓘ You must be logged into barValid network with a valid account to publish and/or download barcode definitions! (see login tutorial)

Download the barvalid satellite Desktop application to your PC from our download section
Install barValid to your PC and start the application
Login using the same username and password you are using for logging into barValid network on your smartphone
Enable the scan to PC feature in the barValid application settings on your smartphone

✓

Congratulations! You are ready to send your barcodes over internet to your PC!
The barValid satellite Desktop application offers you the following possibilities to process the received barcode on your PC:
Enable the scan to PC feature in the barValid application settings on your smartphone
Select the desired action in the barValid satellite Desktop application:

Write the scanned barcode to a CSV file (comma separated file)
Copy the scanned barcode to your PC's clipboard
Forward the scanned barcode to the virtual keyboard- barValid will emulate a keyboard and send the barcode as keyboard input to any focused application
Select the prefix and suffix for the virtual keyboard
Before scanning a barcode using the virtual keyboard keyboard function, switch to the application you want the barcode to be sent to
The application will show for each received barcode the result of the performed action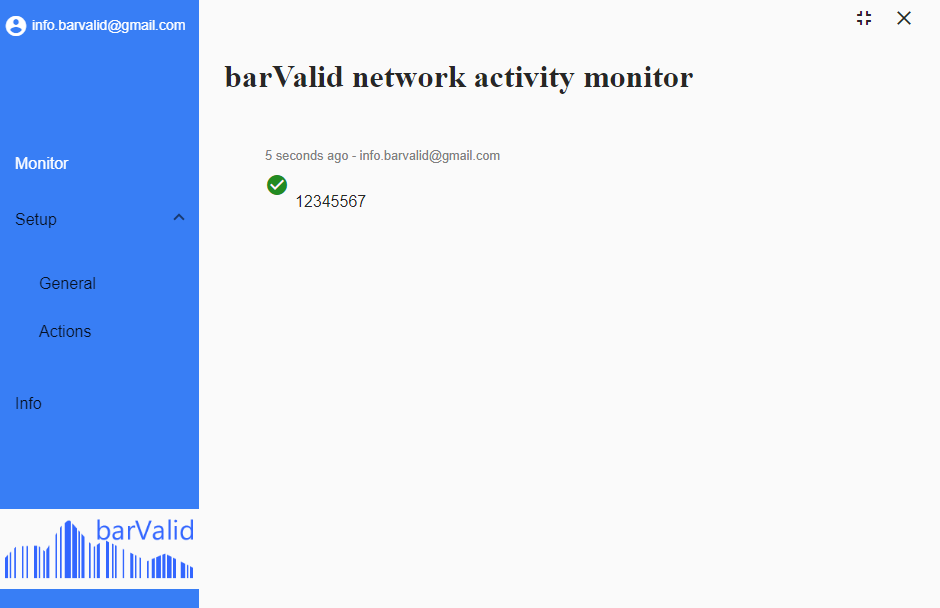 You have learned how to send barcode to PC over internet to other applications like Excel, Word or even your ERP system

Enjoy barcodes with barValid
Overview of all barValid tutorials